Architectural Cabinets, Inc. is furnished with state of the art machinery to fulfill all your needs for commercial and residential cabinetry.

We take pride in providing custom cabinetry that surpasses most. We work very closely with our customers, to assure your utmost satisfaction of your job from start to finish. Because we are personally involved in each project, it is recommended that you schedule an appointment to meet with us to be sure that we are available.

Call to schedule an appointment today!

We have an A+ Rating as an Accredited Business with the Better Business Bureau.

We are registered with the Sun City Center Consumer Affairs Office in SCC, FL.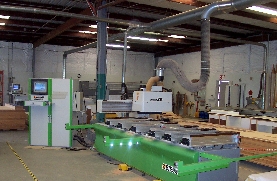 Our shop contains CNC equipment to handle nearly any project that comes our way. Our machinery adds speed and perfection to the cutting and drilling of your cabinet parts.  We not only make your cabinets, and your cabinet doors and drawers; we even make the trim right on our premises!